Drone Week: The Drone Journalism Lab
January 18, 2013
It's Drone Week here at Journovation, where we're getting ready for our first Digital Edge Journalism Seminar on Wednesday (don't foret to sign up here).
To get a better idea what is going with with drones in journalism, a great place to start is the Drone Journalism Lab. It's at the University of Nebraska-Lincoln and is run by Professor Matt Waite, one of the brightest thinkers in the future-of-journalism world.
You can read all about the lab here. And you can see an example of how a drone can be used for journalism here, with their coverage of summer droughts in the midwest.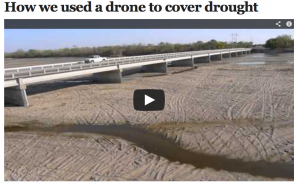 Professor Pacheco in the Press