NEW 400-600: Virtual Reality Storytelling
THE FUTURE IS HERE!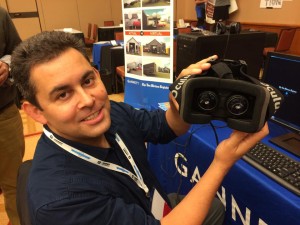 Move beyond just telling stories. Learn how to transport someone's consciousness into a story to experience it using virtual and augmented reality headsets like the OCULUS RIFT, SAMSUNG GEAR VR, and HOLOLENS. You'll gain practical, hands-on skills for building interactive 3D environments in the Unity gaming engine, as well as shooting and editing immersive 360-degree video using a state of the art spherical camera.
Applicable to any form of storytelling, including journalism, film, television, "online" — and industries that don't exist yet. 
VR Storytelling is taught by Dan Pacheco, the Newhouse school's Chair of Journalism Innovation, professional Oculus Rift developer and Edward R. Murrow award winner for The Des Moines Register's Harvest of Change. It's open to students from Newhouse, with five slots available to students from across Syracuse University.
Can't Take the Class in Person?
The fall course has just started. You can follow along and learn with the current class at http://vrstorytelling.org!
Virtual Reality in Context
Why is everyone suddenly talking about virtual reality? Isn't this something that has been around for years? VR has been in development for decades, but it wasn't until a young college-age hacker named Palmer Luckey took a different approach with the Oculus Rift that it was ready for mainstream consumer use. It was also aided by technologies from the mobile industry, as many of the same screens and sensors that make your smartphone so useful can be used to make you feel like you're jumping inside a story.
After trying the Oculus himself, Facebook CEO Mark Zuckerberg then put $2 billion into the company through an acquisition. As a result, every major media industry from television to film to journalism is now in a race to deliver information through 3D headsets, and other headsets from Google and Samsung are on the way.
Immersive, experiential media is now a major trend with potential to shape how we all consume and create media for years to come, and you can be a part of that wave. This trend isn't just about games and entertainment. It will impact everything from journalism to documentary films to sports, all of which will begin to incorporate immersive VR in some way over the next decade. You can see some examples here.
Fast Company says that virtual reality is "a powerful tool for education and journalism," and futurist Amy Webb recently wrote that "immersive, reactive news stories using VR tools are on the horizon." She points to The Des Moines Register's Harvest of Change project as a good example. This is the project that Professor Pacheco consulted on, and we will use it as a template to learn together how to create even more compelling storytelling experiences.
What You'll Learn
In this hands-on course, you will learn the ins and outs of what makes the Oculus Rift such a revolutionary media platform, including how to create 3D environments based on data from the real world. We will explore all of the following:
The Unity3D gaming engine.
3D modeling and 3D scanning.
Identifying a story that can be "told" better through an experience.
Conceptualizing and building a 3D story.
Creating interactive game elements that pull a user through a story.
The ins and outs of depth cameras.
Testing for the Web, Oculus Rift, XBox One and other platforms.
Publishing content for high-definition body responsive gesture walls.