MND 545: Virtual Reality Storytelling
Meets: Mon/Wed 3:45-5:05 in a hybrid in-person/online mode.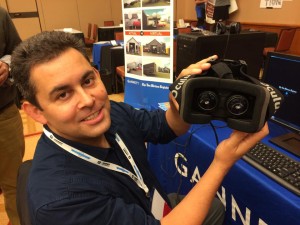 Move beyond just telling stories. Learn how to transport someone's consciousness into a story to experience it using virtual and augmented reality headsets like Facebook's OCULUS QUEST, the VIVE and mobile AUGMENTED REALITY publishing tools.  
Virtual Reality is particularly relevant at a time when most can't travel due to COVID-19. You'll gain practical, hands-on skills for shooting and editing 360 VIDEO, and building interactive 3D environments in SUMERIAN and the UNITY GAMING ENGINE to be able to take people places virtually that go far beyond what's possible in in 2D video chat. Parts of some classes will even take place inside social VR environments, rather than Zoom, using new cloud-based technologies that work with your computer or mobile phone.
This class is very production-oriented, but changes have been made to the course plan to make it possible to produce coursework completely online for those unable to attend in person while giving students who come to campus safe access to 360 camera gear and professional VR headsets. The final project is to create your own immersive story, which is a great option for journalists and storytellers who want to stand out in job interviews as experts in VR. Topics covered include:
360 video production
3D scanning
Creating interactive CGI scenes
Light coding for VR using A-Frame
Gaming engines such as Unity and Sumerian
3D scanning and photogrammetry
Motion capture and character animation
Immersive storytelling techniques
VRStorytelling is taught by Dan Pacheco, the Newhouse school's Chair of Journalism Innovation, professional Oculus Rift developer and Edward R. Murrow award winner for The Des Moines Register's Harvest of Change. It's open to students from Newhouse, with five slots available to students from across Syracuse University.