MND 545: Virtual Reality Storytelling
THE FUTURE IS HERE!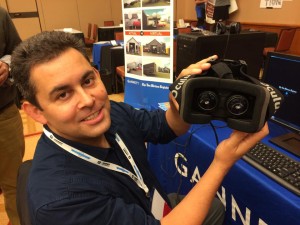 Move beyond just telling stories. Learn how to transport someone's consciousness into a story to experience it using virtual and augmented reality headsets like Facebook's OCULUS, the VIVE and mixed-reality headsets like the MAGIC LEAP. You'll gain practical, hands-on skills for building interactive 3D environments in the Unity gaming engine, as well as shooting and editing immersive 360-degree video using state of the art spherical cameras.
This class focuses completely on virtual reality and creating immersive stories for VR headsets. It is very production-oriented. The final project is to create your own immersive story, which is a great option for journalists and storytellers who want to stand out in job interviews as experts in VR. Topics covered include:
360 video production
3D scanning
Creating interactive CGI scenes
Light coding for VR using A-Frame
Motion capture and character animation
Immersive storytelling techniques
VR Storytelling is taught by Dan Pacheco, the Newhouse school's Chair of Journalism Innovation, professional Oculus Rift developer and Edward R. Murrow award winner for The Des Moines Register's Harvest of Change. It's open to students from Newhouse, with five slots available to students from across Syracuse University.