Author Archive: Brian Moritz
Our second Digital Edge Journalism seminar is scheduled for Feb. 6 and will feature Dan Schultz, who will be talking about "Hacking Journalism." He'll be speaking from noon-1:30 p.m. in the Joyce Hergenham auditorium in Newhouse building 3. Please RSVP on Eventbrite so that we can plan for space. Light snacks will be provided for those who RSVP and bring their Eventbrite tickets.
ABOUT THE EVENT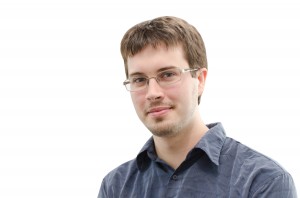 Technology is changing all media, including journalism, but the fact is that most journalists can only get so far on their own. Creating something that is truly unique and innovative in the digital sphere requires working with a developer.
But where are these mythical developers, and why would they work on journalism when they could work at, say, Google or NASA?
Believe it or not, more and more developers are choosing journalism as a profession for a simple reason: they want to do something that makes a difference in the world. They call themselves hacker-journalists, and this is your chance to meet one.
Dan Schultz is an MIT Media Lab grad who is currently completing a Knight Mozilla OpenNews fellowship at the Boston Globe. His recent projects include Truth Goggles, which compares news stories with PolitiFact articles in real time to determine if a statement is true or false; and ATTN-SPAN, which watches C-SPAN for you to create personalized episodes about what your representatives said in Congress.
In this seminar, you'll get to see Dan's creations in action and get tips for how to convince coders to apply their skills to journalism. And who knows, you may even learn a little programming so you can hack the news yourself.