Here are some upcoming events at the S.I. Newhouse school that we think may be of interest to SU students and journovators.
____________________
Brown Bag Lunch with Natalie Gourvich from Squarespace
12-1 P
M – Thursday, January 31st, I-3 Center (Newhouse 3 432-434)
Open to SU students and faculty.
Please join Natalie Gourvich, Business Development Manager for Squarespace, on Thursday, January 31st at 12:00pm in the I-3 Center (room 432/434) to learn about how you can use Squarespace to build a website for your research, creative and classroom projects. Squarespace is an easy-to-use website creation platform in business since 2005. Faculty member Deb Pang Davis has been using it regularly since 2008 for client sites as well as her own.
Squarespace recently launched Version 6 (V6) an intuitive, drag-n-drop experience for people who dread getting their hands "dirty" with code. The beauty of it (still in beta) is that for those of us who don't mind some grease, Squarespace is exceptionally malleable. The icing on the cake? Squarespace is very secure, stable (no hackers!) and has 24/7 customer support.
____________________
Hacking Journalism with Dan Schultz
NOON-1 PM – Wednesday, February 6, I3 Center (Newhouse 3, Room 432)
Open to SU students, faculty and the general public.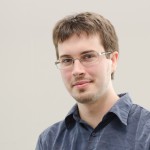 Our second Digital Edge Journalism seminar is scheduled for Feb. 6 and will feature Dan Schultz. Dan's topic will be "Hacking Journalism." He'll be speaking from noon-1:30 p.m. in the I3 Center (Newhouse 3, Room 432). Please RSVP on Eve
ntbrite so that we can plan for space. Light snacks will be provided for those who RSVP and bring their Eventbrite tickets.
Most journalists can only do so much on their own with technology. To create something that is truly unique and innovative, you need to work with a developer. Thankfully, more and more developers are choosing journalism as a profession.
Dan Schultz is an MIT Media Lab grad and currently completing a Knight Mozilla Journalism fellowship at the Boston Globe. His recent projects include Truth Goggles, which compares news stories with PolitiFact articles in real time to determine if a statement is true or false; and ATTN-SPAN, which watches C-SPAN for you to create personalized episodes about what your representatives said in Congress.
See his code in action and get tips for how to convince coders to apply their skills to journalism.
Please RSVP on Eventbrite.
____________________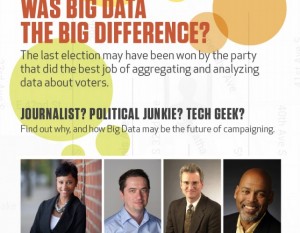 Was Big Data the Difference?
Journalist? Political junkie? Tech geek? Find out why, and how Big Data may be the future of campaigning.The last election may have been won by the party that did the best job of aggregating and analyzing data about voters.
SPEAKERS:
Ashley Bryant: State digital director, Ohio, Obama for America.
Paul Cristian Morarescu: Assistant professor, data science, the School of Information Studies.
Grant Reeher: Professor, Political Science, The Maxwell School.
Hub Brown: Associate Dean, Research, Creativity, International Initiatives and Diversity. Associate Professor, S.I. Newhouse School (moderator).