Drone Week: Examples of Drone Journalism
January 21, 2013
Drone Week continues here at Journovation. Remember, this Wednesday (Jan. 23) is the first of our Digital Edge Journalism Series. Starting at noon, Dan Pacheco will be talking about and demonstrating some of the ways drones can be used in journalism. We'll also be flying our own drone and giving details about our Win a Drone of Your Own contest. (Don't forget to sign up here. There's food, too!).
One of the parts of our contest is coming up with a potential news story in which drones can be used. To get you thinking about stories you may want to pitch to us (or do in your own career), here are some examples of how drones are being used in the journalism world.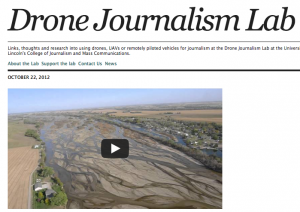 We start, as always, with the University of Nebraska-Lincoln's Drone Journalism Lab. They used drones to cover the devastating droughts that hit the midwest in 2012. Professor Matt Waite has been at the forefront of the use and research of drones in journalism.
60 Minutes also used a drone to get some otherwise hard-to-get footage of the half-sunken Coasta Concordia, a passenger ship that ran aground in Tuscany.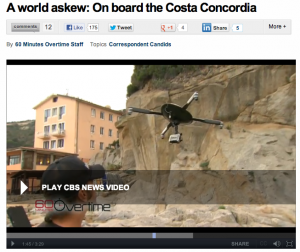 In addition, the Occupy Wall Street Movement also used a drone – the same Parrot ARDrone that we're using and giving away – to get a live feed of the 2011 protests.
Professor Pacheco in the Press