Journovator spotlight: Steve Buttry
September 17, 2012
Steve Buttry, an experienced digital journalist, joined Dan Pacheco's "Creating the Next News Start-Up" class on Sept. 11 via Google+ Hangout.
[youtube]http://www.youtube.com/watch?v=EP2vxLRcuCM&feature=plcp[/youtube]
Steve, who works as Digital Transformation Editor for Digital First Media and Journal Register Company, spoke with the class about the changes going on within the newspaper industry as the print-to-online shift continues. He discussed his work online and in print and what the future holds for journalism.
The video runs about an hour and 20 minutes.
For more of Steve's thoughts, visit his blog.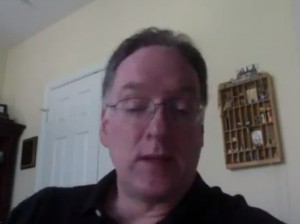 Professor Pacheco in the Press