Journovation spotlight: Homicide Watch D.C.
September 17, 2012
There are at least two types of journalism innovations we're interested in studying. There are the technical innovations that are changing the way news is gathered, the way news is delivered and the way news is consumed. And there are also conceptual innovations that are changing the way we as journalists view what is "the news."
One site that is demonstrating both these types of innovations is Homicide Watch D.C.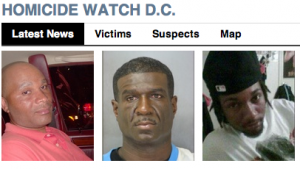 Homicide Watch DC, which is run by Laura Amico and Chris Amico, covers every murder in Washington, D.C. The site covers every case, every step of the way, from murder to adjudication.
The site recently completed a successful Kickstarter campaign, raising more than $40,000 in a month. Because Laura Amico is on fellowship this academic year at Harvard (where she's a Nieman-Berkman fellow), the site would have gone dark if they hadn't raised enough money to pay for reporters to run the site during this year.
"Nobody wanted the site to go down," Laura Amico said in a Google+ Hangout on Sept. 17. "No one in the community wanted it to go down. So we decided to turn it into a student reporting lab."
The money raised will allow the Amico's to hire at least five student interns to run the site this year. The campaign also raised the site's profile, with David Carr writing about it in The New York Times and Clay Shirky writing an impassioned call for funding. "Homicide Watch matters because they are more than just thorough, they're innovative," Shirky wrote.
In several ways, Homicide Watch DC is re-conceptualizing what local journalism looks like in the digital world.
One of the most obvious is in its focus. Homicide Watch DC is intensely local and intensely focused. It works under the banner: "Mark every death. Remember every victim. Follow every case." It's a radically simple notion – the Amicos cover every murder in Washington D.C., every step of the way.
The approach was born out of Amico's experience as a newspaper crime reporter and her own curiosity when she moved to Washington D.C. in 2009.
"I didn't understand how the individual cases fit into a bigger narrative," she said. "I didn't know which ones fit in, and I thought I needed to get a handle on the 100s of cases. And that was a smart decision. It let us review the assumptions of which crimes are newsworthy."
Those assumptions are built into the work routines of print and television journalists.
"I think TV media does some of the best crime coverage, especially here in DC," Amico said. "But they're looking for that good shot, that good scene. And if happened late at night and it's cleaned up by morning, there's no shot. For print, there are different requirements."
For Homicide Watch, D.C., there are no requirements. There is no news judgement, no wondering if this is worthy a story or not. If it's a homicide it's covered. Same as every other one.
To do so brings in the technological innovation – a database that is the site's engine. The database allows the Amicos to follow each case, to collect data on every murder in Washington and to publish that information as they receive it. This information, which is often gathered piecemeal as it comes in, goes into the database.
"As I'm reporting on a case, I can fill in the location, the age, whatever," Amico said. "So when, say, it's Monday morning, there were three murders of the weekend, is that a lot? Or if I want to go deeper – who was killed this year, or are there a lot of plea deals vs. verdicts, I can do all of that with our database."
The technological aspect of the site highlights another innovative approach the Amico's take to their site. The site isn't built around stories in the way that newspapers are or traditional news organizations are. It's built around the database. Stories are a part of that and come out of that. But the crux of the site is the information, not the story.
"I love to write, I became a journalist because I love to write, and when I look at some of the things on Homicide Watch, I think 'This isn't all great writing,'" Amico said. "It's a lot more about the information and being a community resource than it is about great writing. Ideally, at some point, there ends up being a well-written story. But I don't have to come back and write the 40-inch story the next day about it. At Homicide Watch, we can take the time we need to get there and to build narratives."
That time also allows for one of Homicide Watch's other conceptual innovations. It is built, in many ways, around the community it serves. Community members comment on stories, connect through email, social media and any other way you can imagine. The site shows that being a news organization is as much about being a community resource than it is about being a reporting center.
This comes through in how Amico deals with the victims' families.
"When I worked as a traditional reporter, you'd go out to a crime scene and you were not allowed to come back without "The Quote," she said. "The way we do things now, I don't need that quote immediately. If their mother or brother would rather not say something to me right now, if they're not ready to talk, I don't want to force them to. Instead, I'll give them my card and tell them I'm doing a story for tomorrow, if you would like to say something, you can leave a comment on the story or here's how to get in touch with me later, here's my e-mail, my phone number. If you'd like to get in touch with me later, that's fine.
It really puts the power in their hands."
Professor Pacheco in the Press