Journovator spotlight: Jake Naughton
September 17, 2012
Jake Naughton, the multimedia projects coordinator for The Pulitzer Center, spoke with Brian Moritz on Sept. 13 about his work creating digital journalism books.
[youtube]http://youtu.be/-ieEkbbw6Ds[/youtube]
Naughton discussed how The Pulitzer Center is creating books of original reporting that can be read on an iPad using the iBooks Author software. We talked about how these books can become multimedia projects and how they can help news organizations find new audiences.
The video runs about 20 minutes.
For more info on these books, visit The Pulitzer Center .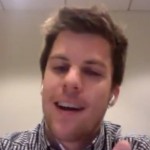 Professor Pacheco in the Press