About Brian Moritz
September 20, 2012
Brian Moritz
Editor, Journovation Journal
Research assistant, Peter A. Horvitz Endowed Chair for Journalism Innovation
Doctoral student, S.I. Newhouse School of Public Communications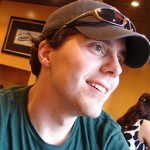 I'm a former sports reporter who walked away from my beat to find out why newspapers are struggling, what they can do about it and how the Internet is changing the way the media does business.
Along with my duties as the Journovation Journal Editor, and as a research assistant for the Peter A. Horvitz Endowed Chair for Journalism Innovation, I'm a second-year doctoral student at the S.I. Newhouse School of Public Communications at Syracuse University. My research focuses on journalists' routines and how they are evolving. My research also focuses on media sociology and sports media and communications. I've presented my research at regional and national AEJMC conferences, as well as the Summit on Communication and Sport.
Before turning to school in 2009, I spent 10 years as a newspaper sports reporter. I worked for the Press & Sun-Bulletin (Binghamton, N.Y.) and The Times Herald (Olean, N.Y.). I've written for The Boston Globe, The Boston Herald, the Fort Worth Star-Telegram and the Baltimore Sun, among others. I've covered college basketball, minor-league baseball, the NCAA Tournament, the NHL playoffs, and the NFL, NBA and MLB. I voted in the AP men's basketball Top 25 and broke coverage of the 2003 St. Bonaventure men's basketball recruiting scandal, for which I won top-10 in the nation in the APSE national writing contest. I also won several writing awards in the New York State Associated Press Association state contest.
Professor Pacheco in the Press