Category Archive: Kick it Up
Juiced, the first student-run Kickstarter campaign to go through the Newhouse Kick it Up program, just reached its goal of $3,950. Now it's moving past it. Warm congratulations to freshman Kate Beckman and the staff of 40 Newhouse school freshmen who made it happen.
As of this now the campaign has attracted 181 backers, so Juiced will receive an additional $1,500 match that comes from the Chair of Journalism Innovation, Newhouse Dean Lorraine Branham and Syracuse University Provost Eric Spina.
"The entire Juiced Team wants to extend our thanks to everyone who has believed in us and contributed to our campaign," the team posted in a December 19 update. And while the rest of the SU community settles into Winter Break, the Juiced team isn't slowing down.
"We've spent the first week of break finishing up articles and creating the design layouts, which are now in the process of being put together. We're going to send our magazine to be printed on January 7th, 2014! We're hoping to get our printed copies back by end of January."
That's great, but we hope they also relax for a few days and bask in their hard-earned success — perhaps over a fresh glass of orange juice.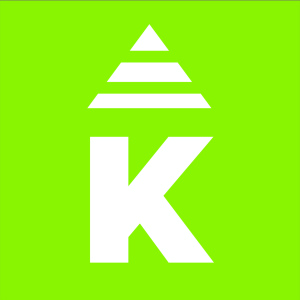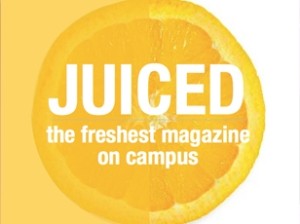 We're excited to see Newhouse startup Juiced Magazine spread its wings on Kickstarter. With the help of our new Kick it Up crowdfunding training program, they have already gotten 85 people to contribute from $1 to $250 to their campaign.
The team has 17 days to reach its goal of $3,950 — and we believe they will reach it with continued support — but thanks to their hard work they're now also eligible for matching funds of $150 from the Newhouse school and Syracuse University. (Note that this will only happen if they reach their fundraising goal, since Kickstarter is an "all or nothing" model.)
Campaigns that go through the Kick it Up program have an incentive not just to reach their monetary goals, but also to do it with a broad base of backers. We do this because we know from experience that raising money alone is not enough for a startup. You need a community of committed customers to help you grow.
Once a campaign hits its fundraising goal, we "kick it up" a notch at these levels:
50 or more backers = $150.
100 or more backers = $450.
150 or more backers= $900.
TOTAL: $1,500
What else will Juiced be able to do with those extra funds? As outlined on their campaign, it will pay for website hosting and future print magazines, ensuring that Juiced will have the best possible magazine in years to come. You can read more about Juiced and their journey in this article on the Newhouse web site.
If you're a Newhouse or Syracuse University students and think you can be the next Kick it Up success story, reach out and tell us about what you want to do. This FAQ also answers a lot of common questions and tells you how to get started.
We're getting ready to feature and promote Kickstarter campaigns through Newhouse's Kick it Up Crowdfunding Training and Acceleration program. Here are a couple of important updates.
Crowdfunding for Media Rescheduled to February
Due to some unavoidable scheduling conflicts at Kickstarter, the "Crowdfunding for Media" event originally planned for November 19 will be rescheduled to sometime in February. We know that many of you were looking forward to meeting with Kickstarter and getting advice on your campaigns, and we apologize for any inconvenience this causes you. Fortunately, Kickstarter's Stephanie Pereira provided a lot of useful information in a Webinar in October, which you can watch here. We also highly recommend that you take an hour to go through the information at Kickstarter School.
But Keep Working on Your Campaigns!
While the crowdfunding event date is changing, we are still planning to start featuring and promoting Newhouse students campaigns beginning Wednesday, November 20. If you're interested in receiving matching funds from Newhouse, make sure you do the following:
Sign in to Kickstarter.com and request a connection with the Newhouse network. We can't feature your campaign on the Newhouse curated page until you connect with us.
Begin your Kickstarter campaign, and let us know it's live so that we can feature it. We will feature any campaign from a Newhouse student as long as it meets the same quality standard for publication that you are used to in a Newhouse class, or a site like TheNewhouse.com. Since Kickstarter reviews and approves every campaign on its site, make sure you allow enough time for their approval.
After your campaign is live, you can apply for matching funds from Newhouse.
Have questions? Fill out our contact form and we'll get back to you.
Good luck!