'Juiced' magazine attracts 85 Kickstarter backers through Kick it Up
December 6, 2013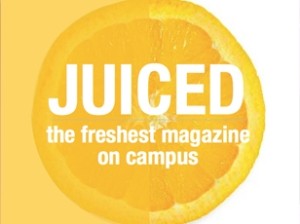 We're excited to see Newhouse startup Juiced Magazine spread its wings on Kickstarter. With the help of our new Kick it Up crowdfunding training program, they have already gotten 85 people to contribute from $1 to $250 to their campaign.
The team has 17 days to reach its goal of $3,950 — and we believe they will reach it with continued support — but thanks to their hard work they're now also eligible for matching funds of $150 from the Newhouse school and Syracuse University. (Note that this will only happen if they reach their fundraising goal, since Kickstarter is an "all or nothing" model.)
Campaigns that go through the Kick it Up program have an incentive not just to reach their monetary goals, but also to do it with a broad base of backers. We do this because we know from experience that raising money alone is not enough for a startup. You need a community of committed customers to help you grow.
Once a campaign hits its fundraising goal, we "kick it up" a notch at these levels:
50 or more backers = $150.
100 or more backers = $450.
150 or more backers= $900.
TOTAL: $1,500
What else will Juiced be able to do with those extra funds? As outlined on their campaign, it will pay for website hosting and future print magazines, ensuring that Juiced will have the best possible magazine in years to come. You can read more about Juiced and their journey in this article on the Newhouse web site.
If you're a Newhouse or Syracuse University students and think you can be the next Kick it Up success story, reach out and tell us about what you want to do. This FAQ also answers a lot of common questions and tells you how to get started.
Professor Pacheco in the Press