Category Archive: Uncategorized
It's not hard to find people talking about what's wrong with journalism these days.
But that's not what we're focused on here. One thing we believe is that this is a potential golden age of journalism. In all the changes happening to the news industry, we see opportunities. Opportunities for entrepreneurs, for young journalists and for veteran ones. Opportunities to use new tools and old knowledge to create great journalism for the 21st century.
In that vein, we are asking journalism innovators (we call them journovators) to complete this sentence: The future of journalism is bright because __________
We'll collect their answers here in a running file. Check in when you need a moment of inspiration.
The future of journalism is bright because __________
Brian Moritz
Editor, Journovation Journal
Research assistant, Peter A. Horvitz Endowed Chair for Journalism Innovation
Doctoral student, S.I. Newhouse School of Public Communications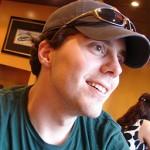 I'm a former sports reporter who walked away from my beat to find out why newspapers are struggling, what they can do about it and how the Internet is changing the way the media does business.
Along with my duties as the Journovation Journal Editor, and as a research assistant for the Peter A. Horvitz Endowed Chair for Journalism Innovation, I'm a second-year doctoral student at the S.I. Newhouse School of Public Communications at Syracuse University. My research focuses on journalists' routines and how they are evolving. My research also focuses on media sociology and sports media and communications. I've presented my research at regional and national AEJMC conferences, as well as the Summit on Communication and Sport.
Before turning to school in 2009, I spent 10 years as a newspaper sports reporter. I worked for the Press & Sun-Bulletin (Binghamton, N.Y.) and The Times Herald (Olean, N.Y.). I've written for The Boston Globe, The Boston Herald, the Fort Worth Star-Telegram and the Baltimore Sun, among others. I've covered college basketball, minor-league baseball, the NCAA Tournament, the NHL playoffs, and the NFL, NBA and MLB. I voted in the AP men's basketball Top 25 and broke coverage of the 2003 St. Bonaventure men's basketball recruiting scandal, for which I won top-10 in the nation in the APSE national writing contest. I also won several writing awards in the New York State Associated Press Association state contest.
DAN PACHECO
Executive Editor, Journovation Journal
Peter A. Horvitz Endowed Chair in Journalism Innovation
S.I. Newhouse School of Public Communications
Syracuse University 
Dan Pacheco is a digital journalist with 18 years of experience in news and information startups and new product development. After a year as a feature writer for The Denver Post, he joined the launch team for Washingtonpost.com in 1994, where he produced its first business, technology and community sections. He later spent six years at America Online launching and managing user-contributed content services.
In 2004, he joined The Bakersfield Californian, where he launched Bakotopia, the first social networking service for a local newspaper, and multiple web-print niche products. His work there earned a Newspaper Association of America "20 Under 40" award and two Knight-Batten Awards for Innovation in Journalism. The home-grown Bakomatic platform that powered these sites was purchased by the Arizona Republic and Sacramento Bee.
In 2007, Pacheco was awarded an $837,000 Knight News Challenge grant to run Printcasting, an experiment in cloud-based magazine creation. The service evolved into BookBrewer, an eBook and Print on Demand startup that is used by journalists, news organizations and self-published authors.