Hello! I'm Dan Pacheco, the Chair of Journalism Innovation at the S.I. Newhouse School of Public Communications. I'm starting this blog on the Journovation site to keep people at Newhouse and the greater Syracuse University community up to date on things I'm working on. I will aim to post something at least once a week.
As a first post, I want to share some updates that I sent out in the Digital Edge email list, which you can join by clicking the Email List button at the top of this blog, or by clicking here.
There are three new developments at the Newhouse School through my Chair that I want to share. Students, faculty and friends are invited to stop by my office in Newhouse 2, room 494, to learn more about any of these.
1. Dan Schultz, our new programmer in residence
We've all seen innovative digital news packages that go beyond simple text, photos and video (for example, the New York Times' Snow Fall). Things like data visualization, mobile apps and even cutting-edge technologies like Google Glass are always pushing the envelope for journalists, and you want to have these skills in your portfolio. But to do that you often need to know a little coding, or get the interest of a programmer. How do you get past that hump?
We're excited to announce that Dan Schultz, an MIT-educated Knight-Mozilla fellow who spent the last year hacking together projects for the Boston Globe, is joining Newhouse as our first visiting programmer in residence, and he's here to work with students on their projects. Newhouse students who have an idea for Dan can fill out this online form (http://bit.ly/18XX762) and we'll get back to you with questions. Your project doesn't need to be connected to a class, but if it is be sure to talk to the instructor first about your idea and how you'd like to involve a programmer. (Have an idea, but you're not a student? Dan can be reached directly at slifty@gmail.com.)
2. Hacks & Hackers meetup at Syracuse Media Group next Wednesday, 9/4 @6 p.m.
A quiet revolution in journalism is underway in Syracuse and Central New York, and it's coming from a surprising source. Citizen programmers ("hackers," but the friendly kind) are creating online databases, crime maps and more to shed sunshine on important issues the community — all on their own, just for fun. They want to work with journalists to bring data and content together with code to create something even better. This group is called Hacks and Hackers, and you can get involved by going to http://meetup.com/hhsyracuse.
The next meetup is at the Syracuse Media Group, home to Syracuse.com, next Wednesday September 4, 2013 at 6 p.m. This is a great chance to meet editors, reporters and technology technologists at Syracuse.com, as well as some principals at the Innovation Trail that covers technology innovation for WRVO and other area public radio stations. And most importantly, meet local hackers who want to work with you to make your stories take advantage of everything digital has to offer. Note that for this event you must RSVP through Meetup (http://bit.ly/1dLz1it) so that the group can order enough munchies and drinks.
———-
3. Kick it Up on Kickstarter!
Crowdfunding portals like Kickstarter.com are emerging as a powerful force for helping people who have ideas get them funded and launched, and that includes journalism. A few enterprising Newhouse students have already used the platform to fund their storytelling projects, like sophomore Luke Rafferty who launched The Timeless Artisans with the help of 112 backers who collectively gave $6,321.
Now we want to help other students follow in his footsteps. "Kick it Up" is a new program to help Newhouse students who want to learn how to run a successful campaign on Kickstarter. The programs helps in two ways:
In-person and online training on how to run an effective Kickstarter campaign, which will be held on Tuesday, November 19, at 6 p.m. in the Joyce Hergenhan Auditorium in Newhouse 3. (This event will be open to the public, so if you're not an enrolled student please plan on coming anyway!)
Monetary awards of up to $1,500 for students who post Kickstarter projects this fall under the theme of "Non-Fiction Storytelling or Services" and attract high numbers of backers.
You can learn more about Kick it Up here: https://journovation.syr.edu/kick-it-up/
4. The Digital Petting Zoo Opens Soon!
Last but not least, we'll soon be opening an indoor zoo! If you're allergic to furry animals, don't worry. These animals are all digital, and they want you to try them out, play around and otherwise pet them.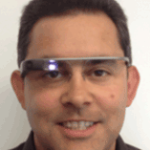 This fall we have Google Glass, the LeapMotion device, camera drones and some other technologies to showcase.
Petting Zoo hours will be posted on the Journovation.syr.edu web site so check back there for more details soon.
It's gearing up to be a fun semester. Thanks for your interest in the Digital Edge!
– Dan