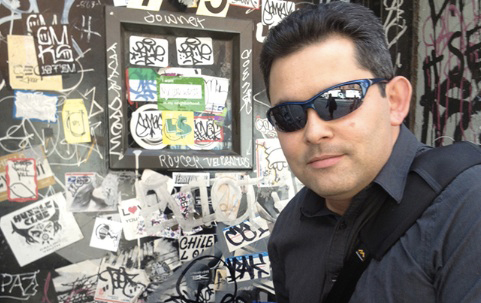 Report from Dan Pacheco's #JournovationTour in New York City
May 20, 2013
I just returned from a fast-paced tour of startups and journalists in New York City that are each shaking up the world of journalism in their own ways. I live-tweeted whenever possible using the hashtag #JournovationTour, and also took notes as I went along. This is a report from that trip.
Just for fun I wrote this in Spundge Pro, one of the startups I met along the way that I'm now evaluating for future use by students at the S.I Newhouse school. I just finished my first year as the Newhouse Chair of Journalism Innovation and will be co-teaching the class that feeds into the award-winning student-produced Newshouse site started by Jon Glass.
The five stops on my tour were:
The New York Times, with the team that created Snow Fall.
Marquee, a spunky little startup that powers the storytelling engine for Narrative.ly, now on Time's 50 Best Websites list.
Twitter, which recently hired Mark S. Luckie as an evangelist and trainer of journalists via Twitterfornews.
Kickstarter, which as become a new way for journalists and media projects to get new projects and even companies funded.
Spundge, a hybrid blog search, RSS reader, social media curator and publishing tool.
I realized going in that this was a broad and varied group of subjects, but that was also the point. I wanted to talk to a variety of people in organizations big and small to show students of journalism how their field is being shaped from all corners — not just the legacy organizations, but also from startups. And if my small sampling from New York City is any indication, there's plenty of change, disruption and opportunity ahead for journalists.
My colleague, multimedia journalist and Professor Corey Takahashi, came long to some of the meetings and saw a couple common threads:
@pachecod Thinking back, there was a common theme to the tech cos: Each said they wanted to get out of the way of great content, creators.@pachecod Thinking back, there was a common theme to the tech cos: Each said they wanted to get out of the way of great content, creators.

— Corey Takahashi (@takalabtime)

May 17, 2013

I will agree with that, and also add that journalists in larger organizations are trying to get out of each others' way, and to remove artificial barriers to collaboration.
Over the coming days I will be publishing each stop as its own article, then link them all together as one package. Start by reading my report from stop 1 at The New York Times.
Looking ahead, this is what I hope to be just the first part of a multi-city tour that I take through this summer, with other locations including Washington, D.C. and possibly Chicago. Want to meet me on the next leg of the tour? Let me know via @pachecod or @JournovationSU on Twitter or fill out our contact form.
Professor Pacheco in the Press