Nonny De la Peña speaking March 4
February 21, 2013
The worlds of gaming and journalism are about to merge as the cost of creating 3D experiential environments plummets and a flood of new motion and gesture-based interfaces readies to enter the marketplace. Journalist Nonny de la Peña is on the forefront of this trend, and will visit the Newhouse School on Monday, March 4, bringing stereoscopic "virtual reality goggles" that allow people to literally step into a 3D news story.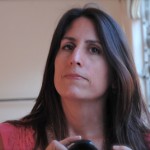 "Nonny is a true pioneer in an exciting new frontier for digital journalism and documentary film," says Peter A. Horvitz Chair of Journalism Innovation Dan Pacheco, who is bringing De la Peña to the Newhouse school as the third speaker in the Digital Edge Journalism seminar series. "When you enter her immersive experiences, you feel as if you've been transported to another place and another time. In the future, will some stories not be so much told as experienced?"
De la Peña will speak at 7 p.m. in the Joyce Hergenhan Auditorium in Newhouse 3. Follow on Twitter at hashtag #immersj.
She will also provide interactive visual reality demonstrations that afternoon, beginning at 1 p.m., in Room 494, Newhouse 2. Personal tours can be reserved by signing up at http://bit.ly/1353xAf. Priority will be given to SU students.
Space at De la Peña's evening talk is limited, so please RSVP here. Attendance is free and open to the public.
Professor Pacheco in the Press