Emerging Tech for New Media
January 22, 2014
Takeaways from the 2014 Consumer Electronics Show
By Prof. Dan Pacheco
Earlier this month I spent a few days trolling the 2 million square feet of exhibits at the 2014 Consumer Electronics Show. This was thanks in part to generosity of the IRTS Foundation, which covered hotel and the CES badge as part of a faculty seminar held at the Luxor. (Thanks, Joyce Tudryn!)
My goal at CES was to find some new technologies that impact media for my New Tech for New Media class to explore in February. While I agree with people like Jack Myers that there were no truly innovative breakthrough technologies at this year's show, I found a few unique offerings that fit into the themes of this year's class, which is focusing on "wearable, waveable and flyable" technologies.
In some cases I was also able to post quick video interviews from Google Glass, which proved to be an effective way to get the attention of people manning popular booths. I experimented both with capturing video and one-tap uploading into YouTube. This proved to be a good way to cover a breaking event, with instant videos going online that I could later edit and annotate in the YouTube interface from my hotel room each evening.
Here are the most innovative things I found:
Displair, a touch screen made of air.
The Displair touch "screen" consists of a printer-sized device that shoots a jet of  water vapor upward to create a shimmering surface that is then projected onto from a few feet away. Sensors in the device can tell where your hands are in physical space, so it also works as a touch screen.
Here's a video of me playing Fruit Ninja in the air. I could see this being useful for interactive advertising in retail locations, as well as media/art installations in museums and other public spaces.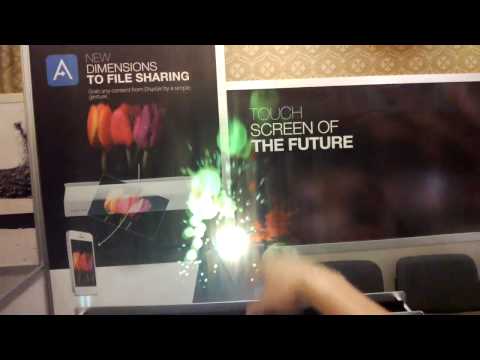 Zspace augmented reality
Intel's booth featured a demo from a company called Zspace that pairs passive 3D glasses with a screen and pen. You use the pen to manipulate virtual objects that appear to float in the air right in front of you. While I wasn't able to try it myself, the people going through the demo seemed to be really engaged. A 2D screen above them showed roughly what they were seeing. Here's a video of a demo I captured from Google Glass.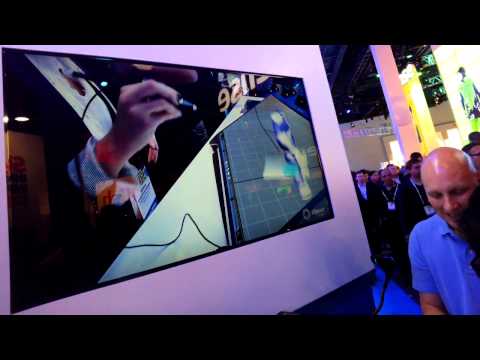 Autographer, an intelligent wearable camera
This inexpensive wearable camera takes pictures all day long. You clip it onto your shirt or jacket, open the shutter and forget about it. It takes photos all day long based on an algorithm that uses changes in light, motion, direction and temperature to determine when to take a shot. Here's a quick Glass interview with Autographer's marketing director James Ebdon.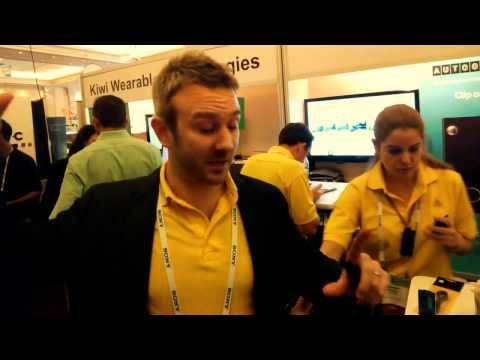 My thoughts on how this could be used in journalism and media: just as Google Glass is helping journalists capture photos that they would have missed in the 15 seconds it takes to pull out a traditional camera or cell phone, this could be another useful tool in the arsenal of the mobile journalist. But it also has obvious implications for privacy, ethics and even the law depending on what country or part of the world you're in. Just because you can capture anything doesn't mean that you're allowed to use the footage.
But what else is new? As soon as cameras moved into cell phones, humanity has been in the process of becoming one big camera. These days if you walk outside you should just assume your image is being recorded and posted somewhere, likely without your permission.
Epiphany Eyewear
I ran into this Indiegogo-funded startup in the hallway of the Venetian. At $400, Epiphany Eyewear is like an inexpensive alternative to Google Glass for people who want to record ambient video, but don't need Glass's augmented reality features. Like Autographer, it has some implications for privacy and ethics. I fully expect to get interviewed from "social glasses" like this sometime in the future, and you should too.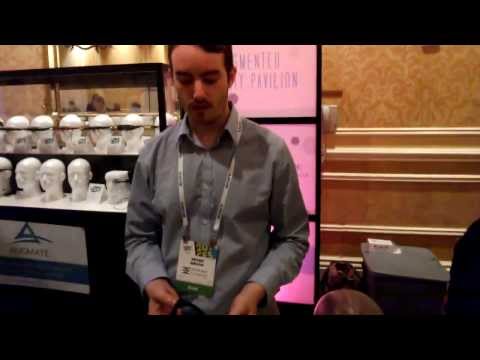 Beyond Media
Of course, there were plenty of innovations that had nothing to do with media, but may some day. Here are a few other innovations that caught my eye.
Parrot's minidrone and jumping sumo
As an outspoken proponent of drone journalism, the only reason I categorize these new A.R. Parrot drones as "beyond media" is because the flying version has no camera, and I'm having a hard time imagining a common media use for the land-based sumo. But they sure were a lot of fun to watch, and it was incredible to see how synchronized the drones were.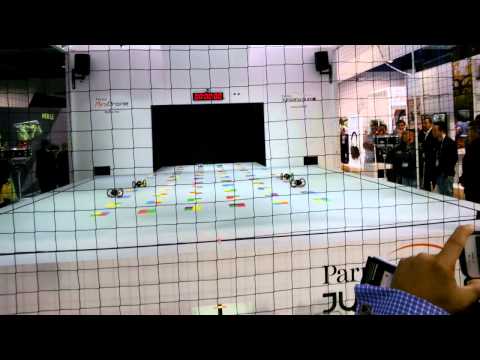 DWS Labs printers
This industrial 3D printing company now has a consumer "SLA" printer that costs $2,500. It uses lasers to solidify forms in a vat of liquid, and the creations emerge out the top. They have very high resolution and you would never know that what you're holding was "printed." I got a video of some of the creations in these two videos: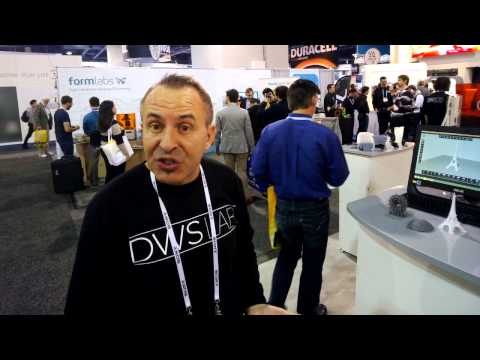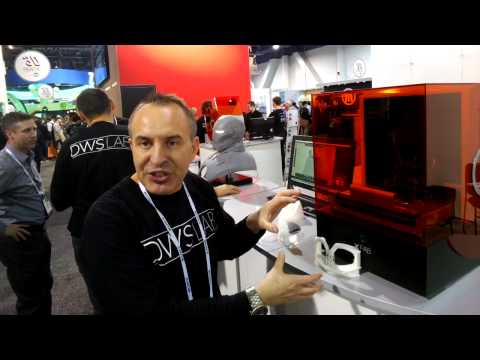 After explaining this technology to studens in my Next News Startup class, one of them (that's you, DJ Summers), made what I think is a prescient prediction. Just as companies like Wal-mart disrupted the retail business, and Amazon is now disrupting bricks and mortar retail and is looking to technologies like drones to reduce delivery times from days to hours, 3D printing technology could disrupt package delivery. In the future, how many items that we now order online with Amazon Prime free shipping will we simply print off or replicate in our homes?
Dancing Robots
At the IRTS Faculty Seminar I attended right before CES, Hunter Lloyd from Montana State University's computer science department showed just how far consumer robotics has come along. They've long since moved on from vacuuming the house and are now emerging as companions with good dance moves to boot. Here's the Nao robot he programmed.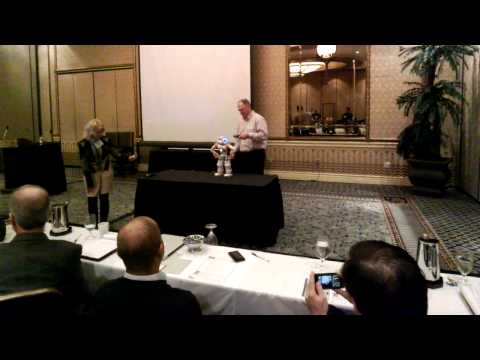 And finally, Will.i.am
No, Will.i.am isn't selling himself as a robot yet, but he is getting into 3D printing. Somehow I just happened to be at the 3D Systems booth when Will.i.am announced he was becoming the creative officer for 3D Systems. I captured these two videos.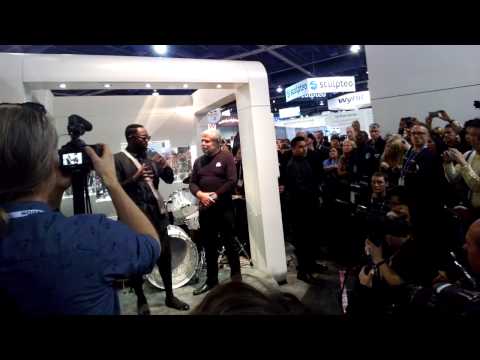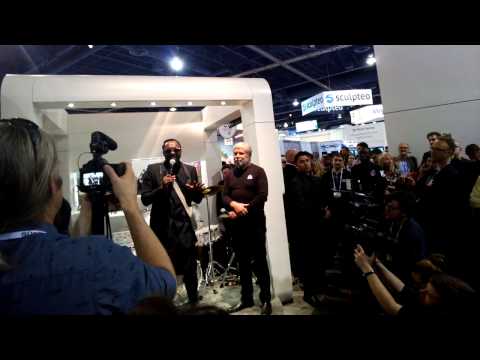 I had a lucky break when he called out 13-year-old "young maker" Schuyler St. Leger, who was in attendance and happened to be standing right in front of me when Will.i.am called him out of the crowd. I did some research on St. Leger and found out that he's quite the Internet celebrity and has even done his own Ignite Spark on why he loves his 3D printer.
If you're wondering if this technology is going to change the world, wonder no longer because kids like Schuyler are hard at work making it happen. Here he is telling Will.i.am and 3D Systems founder Abraham Reichental how he'd like to 3D print an "extremely efficient energy production device."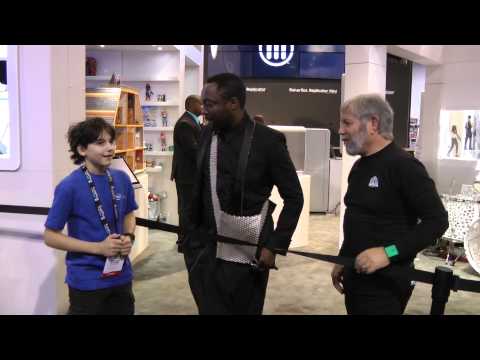 – Professor Dan Pacheco
Professor Pacheco in the Press